Your body needs certain nutrients from either your diet or your environment in order to function properly. When your lifestyle does not supply you with enough of a certain type of nutrient, you are considered to have a nutritional deficiency.
Since the late 1960's, researchers have examined whether (hormonal) can cause nutritional deficiencies. In fact, this was quite a popular research topic in the 1970's and 1980's. So let's hang on tight and dig into the recent data (aka with current pill formulations) of how and  if affects the availability of nutrients for your body.
The very basics of nutrition
Food and water provide the necessary nutrients we need to live. Your body breaks down food and water into the basic molecules that it needs to fuel its cells (which are the building blocks of your body). Nutrients are divided into the "macronutrients" of carbohydrates, proteins and fats and "micronutrients" of vitamins and minerals.1
A healthy, balanced diet should provide adequate nutrition to support a healthy body. Occasionally, there are certain nutrients that should be added to our diets depending on your health status and other factors.2
What is a nutritional deficiency?
Nutritional deficiency occurs when a person does not have the necessary amount of a macro- or micronutrient to support a healthy body. Nutritional deficiencies can be clinical (meaning a doctor can diagnose a patient, often due to symptoms) or subclinical (goes undetected or unnoticed).3 They can be difficult to diagnose and require blood tests to evaluate levels. For this piece, let's focus on nutritional deficiencies of micronutrients, aka vitamins and minerals.
There are many vitamins and minerals that are considered essential:
Your body requires different amounts of each of these micronutrients and different times of life have different requirements as well.5
Micronutrient deficiencies are more likely to affect certain populations (pregnant and lactating, young, elderly, obese, or critically ill people), and do occur in "high income" countries such as the United States. Avoiding nutrient deficiencies is especially important for pregnant and lactating mothers, both for their own health and for the healthy development and growth of the fetus or baby.8
An estimated 31% of the US is at risk of a vitamin or anemia nutritional deficiency.9
How does affect nutrition or nutritional deficiencies?
It all comes down to your liver. Why? Your liver is the organ responsible for metabolizing your food (aka micronutrients), but also for metabolizing toxins and drugs (such as ). Therefore, your liver is where micronutrients and meet (theoretically speaking, anyway).
The question is: are these interactions leading to deficiencies in nutrients that can be harmful to those taking ?
As of now, there is limited current and reliable evidence to support the idea that oral contraceptives cause nutritional deficiencies – except when there are other on-going underlying health conditions.
Does cause nutritional deficiencies?
A number of studies in the 1970's and 1980's looked at specific metabolic changes in people taking oral contraceptives. It is difficult to judge the validity of these papers as many are no longer accessible to understand the study details. Many were also studying early options that had much higher levels of hormones than those used today.
As we know, it is theoretically possible that there are metabolic changes when taking hormones since hormones both directly affect the liver and are metabolized by the liver. However, many of the rumors of causing nutrient deficiencies are rooted in these very outdated studies.
The one exception to this seems to be vitamin B6, which has been shown to be decreased with newer formulations.10 However, there remains controversy on whether the amount of B6 depletion is sustained during use and if it is a clinically meaningful decrease.11
Like what you're reading? Get the latest straight to your inbox 💌
Otherwise, current research generally suggests that if you are healthy, eat a balanced diet, and do not take other drugs when you start hormonal birth control, then it shouldn't cause nutritional deficiencies. In fact, this same logic was also proposed in 1977 when many studies were purporting the negative effects of at the time.12
Some drugs (including specific antibiotics) may pose safety risks depending on your medical history and the particular drug-drug interactions. If you are taking other medications in addition to oral contraceptives, we recommend checking with a healthcare provider before starting .
Although not all micronutrients are not studied in relation to , there is some information provided by single studies. It's worth emphasizing that many of these results have not been replicated by multiple groups and/or were (very) small studies and/or were done many years ago, so more thorough recent research is definitely needed before making strong conclusions about their findings.
Minerals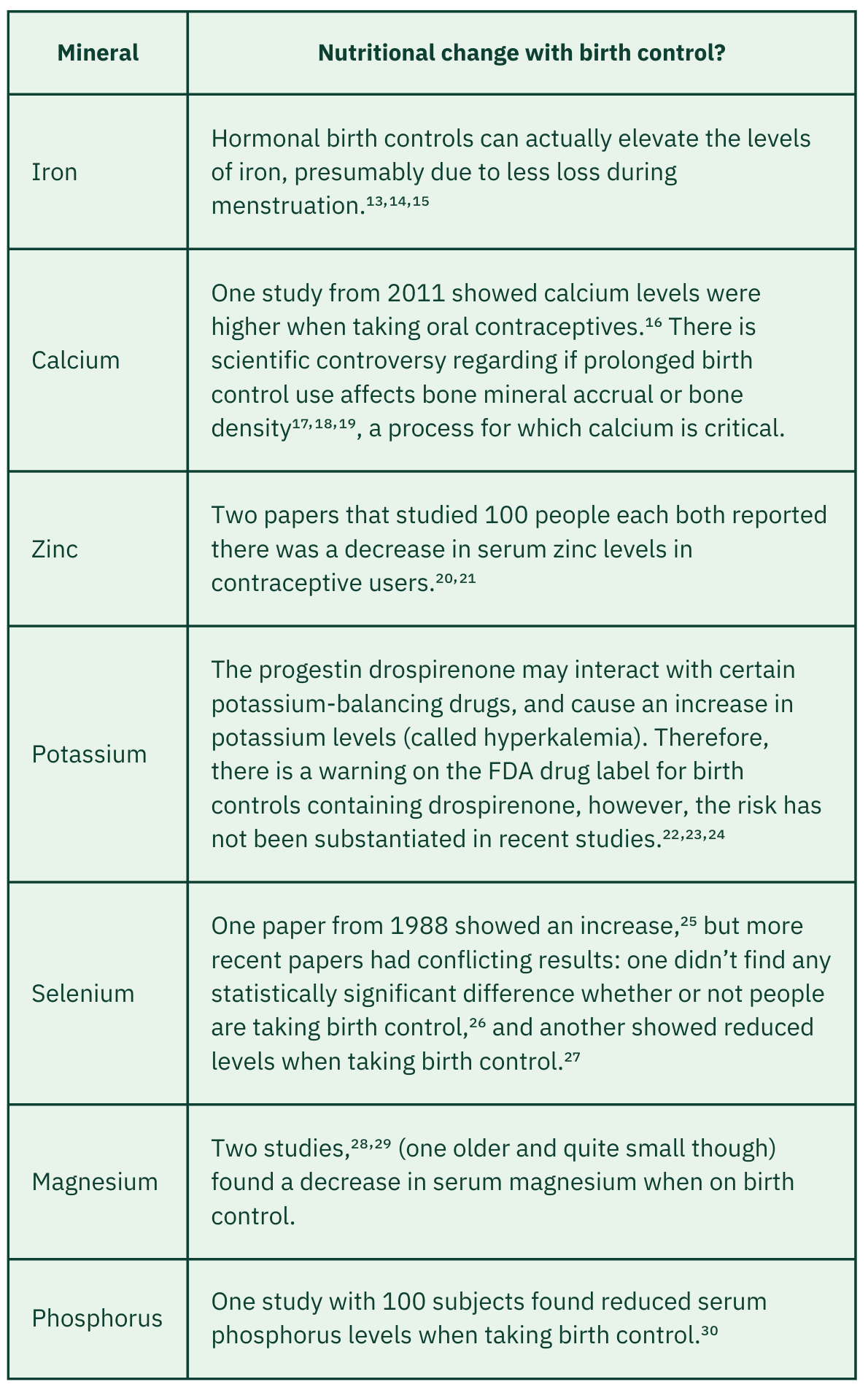 Vitamins
Should you take extra vitamins when on ?
The research says that vitamins B6 and B12 may be decreased in oral contraceptive users. Yet, the impact of this level of decrease has not been studied and is not immediately known. Supplements of these vitamins are readily available.
Overall, if you eat a healthy diet, do not have underlying medical issues, and do not take other prescription medications, shouldn't cause dangerous nutritional deficiencies. However, a multivitamin is generally a safe supplement to take and so, if it puts you at ease to take one while using hormonal birth control, that is a simple solution. If you still aren't sure what is best for you, your medical provider is a good person to ask.
Conclusion
Most nutritional deficiencies can be avoided with a healthy, well-balanced, nutrient-dense diet and healthy habits (aka do not smoke, drink alcohol in moderation and avoid recreational drugs), including when taking . Specific health situations, most commonly pregnancy or lactation, have unique nutritional requirements and can necessitate extra vitamins.
We're hopeful that more research will be done to better understand the benefits of birth control pills that contain extra vitamins such as folate,40-41 and iron.42 Maybe one day your multivitamin and could come in one pill?
Always consult your healthcare provider if you have concerns about your health.
Chen Y, Michalak M, Agellon LB. Importance of Nutrients and Nutrient Metabolism on Human Health. Yale J Biol Med. 2018;91(2):95-103. Published 2018 Jun 28.
 U.S. Department of Agriculture and U.S. Department of Health and Human Services. Dietary Guidelines for Americans, 2020-2025.v9th Edition. December 2020.  U.S. Department of Agriculture and U.S. Department of Health and Human Services. Dietary Guidelines for Americans, 2020-2025. 9th Edition. December 2020. Available at DietaryGuidelines.gov.  Available at https://www.dietaryguidelines.gov/sites/default/files/2020-12/Dietary_Guidelines_for_Americans_2020-2025.pdf.
 DiNicolantonio JJ, O'Keefe JH, Wilson W. Subclinical magnesium deficiency: a principal driver of cardiovascular disease and a public health crisis [published correction appears in Open Heart. 2018 Apr 5;5(1):e000668corr1]. Open Heart. 2018;5(1):e000668. Published 2018 Jan 13. doi:10.1136/openhrt-2017-000668
 "Vitamins and Minerals." National Center for Complementary and Integrative Health, NIH. https://www.nccih.nih.gov/health/vitamins-and-minerals. Last updated 02/2018. Accessed 08-09/2022.
 "Vitamins and Minerals." National Center for Complementary and Integrative Health, NIH. https://www.nccih.nih.gov/health/vitamins-and-minerals. Last updated 02/2018. Accessed 08-09/2022.
 Bird JK, Murphy RA, Ciappio ED, McBurney MI. Risk of Deficiency in Multiple Concurrent Micronutrients in Children and Adults in the United States. Nutrients. 2017;9(7):655. Published 2017 Jun 24. doi:10.3390/nu9070655
 Bruins MJ, Bird JK, Aebischer CP, Eggersdorfer M. Considerations for Secondary Prevention of Nutritional Deficiencies in High-Risk Groups in High-Income Countries. Nutrients. 2018;10(1):47. Published 2018 Jan 5. doi:10.3390/nu10010047
 U.S. Department of Agriculture and U.S. Department of Health and Human Services. Dietary Guidelines for Americans, 2020-2025.v9th Edition. December 2020.  U.S. Department of Agriculture and U.S. Department of Health and Human Services. Dietary Guidelines for Americans, 2020-2025. 9th Edition. December 2020. Available at DietaryGuidelines.gov.  Available at https://www.dietaryguidelines.gov/sites/default/files/2020-12/Dietary_Guidelines_for_Americans_2020-2025.pdf.
 Bird JK, Murphy RA, Ciappio ED, McBurney MI. Risk of Deficiency in Multiple Concurrent Micronutrients in Children and Adults in the United States. Nutrients. 2017;9(7):655. Published 2017 Jun 24. doi:10.3390/nu9070655
 Morris MS, Picciano MF, Jacques PF, Selhub J. Plasma pyridoxal 5′-phosphate in the US population: the National Health and Nutrition Examination Survey, 2003-2004. Am J Clin Nutr. 2008;87(5):1446-1454. doi:10.1093/ajcn/87.5.1446
 Wilson SM, Bivins BN, Russell KA, Bailey LB. Oral contraceptive use: impact on folate, vitamin B₆, and vitamin B₁₂ status. Nutr Rev. 2011;69(10):572-583. doi:10.1111/j.1753-4887.2011.00419.x
 King JC. Nutrition during oral contraceptive treatment. J Nurse Midwifery. 1977;22(1):31-32. doi:10.1016/0091-2182(77)90100-8
 Fogelholm M, Alopaeus K, Silvennoinen T, Teirila J. Factors affecting iron status in non-pregnant women from urban south Finland. Eur J Clin Nutr. 1993;47(8):567-574.
 Fischer JAJ, Sasai CS, Karakochuk CD. Iron-Containing Oral Contraceptives and Their Effect on Hemoglobin and Biomarkers of Iron Status: A Narrative Review. Nutrients. 2021;13(7):2340. Published 2021 Jul 9. doi:10.3390/nu13072340
 Akinloye O, Adebayo TO, Oguntibeju OO, Oparinde DP, Ogunyemi EO. Effects of contraceptives on serum trace elements, calcium and phosphorus levels. West Indian Med J. 2011;60(3):308-315.
 Akinloye O, Adebayo TO, Oguntibeju OO, Oparinde DP, Ogunyemi EO. Effects of contraceptives on serum trace elements, calcium and phosphorus levels. West Indian Med J. 2011;60(3):308-315.
 Goshtasebi A, Subotic Brajic T, Scholes D, Beres Lederer Goldberg T, Berenson A, Prior JC. Adolescent use of combined hormonal contraception and peak bone mineral density accrual: A meta-analysis of international prospective controlled studies. Clin Endocrinol (Oxf). 2019;90(4):517-524. doi:10.1111/cen.13932
 Scholes D, Ichikawa L, LaCroix AZ, et al. Oral contraceptive use and bone density in adolescent and young adult women. Contraception. 2010;81(1):35-40. doi:10.1016/j.contraception.2009.07.001
 Jackowski SA, Baxter-Jones ADG, McLardy AJ, Pierson RA, Rodgers CD. The associations of exposure to combined hormonal contraceptive use on bone mineral content and areal bone mineral density accrual from adolescence to young adulthood: A longitudinal study. Bone Rep. 2015;5:e333-e341. Published 2015 Jun 12. doi:10.1016/j.bonr.2015.06.001
 Fallah S, Sani FV, Firoozrai M. Effect of contraceptive pill on the selenium and zinc status of healthy subjects. Contraception. 2009;80(1):40-43. doi:10.1016/j.contraception.2009.01.010
 Akinloye O, Adebayo TO, Oguntibeju OO, Oparinde DP, Ogunyemi EO. Effects of contraceptives on serum trace elements, calcium and phosphorus levels. West Indian Med J. 2011;60(3):308-315.
 Bird ST, Pepe SR, Etminan M, Liu X, Brophy JM, Delaney JA. The association between drospirenone and hyperkalemia: a comparative-safety study. BMC Clin Pharmacol. 2011;11:23. Published 2011 Dec 30. doi:10.1186/1472-6904-11-23
 Loughlin J, Seeger JD, Eng PM, et al. Risk of hyperkalemia in women taking ethinylestradiol/drospirenone and other oral contraceptives. Contraception. 2008;78(5):377-383. doi:10.1016/j.contraception.2008.06.012
 Mona Eng P, Seeger JD, Loughlin J, Oh K, Walker AM. Serum potassium monitoring for users of ethinyl estradiol/drospirenone taking medications predisposing to hyperkalemia: physician compliance and survey of knowledge and attitudes. Contraception. 2007;75(2):101-107. doi:10.1016/j.contraception.2006.08.011
 Heese HD, Lawrence MA, Dempster WS, Pocock F. Reference concentrations of serum selenium and manganese in healthy nulliparas. S Afr Med J. 1988;73(3):163-165.
 Fallah S, Sani FV, Firoozrai M. Effect of contraceptive pill on the selenium and zinc status of healthy subjects. Contraception. 2009;80(1):40-43. doi:10.1016/j.contraception.2009.01.010
 Akinloye O, Adebayo TO, Oguntibeju OO, Oparinde DP, Ogunyemi EO. Effects of contraceptives on serum trace elements, calcium and phosphorus levels. West Indian Med J. 2011;60(3):308-315.
 Akinloye O, Adebayo TO, Oguntibeju OO, Oparinde DP, Ogunyemi EO. Effects of contraceptives on serum trace elements, calcium and phosphorus levels. West Indian Med J. 2011;60(3):308-315.
 Blum M, Kitai E, Ariel Y, Schnierer M, Bograd H. Harefuah. 1991;121(10):363-364.
 Akinloye O, Adebayo TO, Oguntibeju OO, Oparinde DP, Ogunyemi EO. Effects of contraceptives on serum trace elements, calcium and phosphorus levels. West Indian Med J. 2011;60(3):308-315.
 Haile ZT, Teweldeberhan AK, Chavan B, Francescon J. Hormonal contraceptive use and vitamin A deficiency among women in Tanzania. Int J Gynaecol Obstet. 2018;141(1):20-25. doi:10.1002/ijgo.12396
 Morris MS, Picciano MF, Jacques PF, Selhub J. Plasma pyridoxal 5′-phosphate in the US population: the National Health and Nutrition Examination Survey, 2003-2004. Am J Clin Nutr. 2008;87(5):1446-1454. doi:10.1093/ajcn/87.5.1446
 McArthur JO, Tang H, Petocz P, Samman S. Biological variability and impact of oral contraceptives on vitamins B(6), B(12) and folate status in women of reproductive age. Nutrients. 2013;5(9):3634-3645. Published 2013 Sep 16. doi:10.3390/nu5093634
 Berenson AB, Rahman M. Effect of hormonal contraceptives on vitamin B12 level and the association of the latter with bone mineral density. Contraception. 2012;86(5):481-487. doi:10.1016/j.contraception.2012.02.015
 Berenson AB, Rahman M. Effect of hormonal contraceptives on vitamin B12 level and the association of the latter with bone mineral density. Contraception. 2012;86(5):481-487. doi:10.1016/j.contraception.2012.02.015
 Nylén H, Björkhem-Bergman L, Ekström L, et al. Plasma levels of 25-hydroxyvitamin D3 and in vivo markers of cytochrome P450 3A activity in Swedes and Koreans: effects of a genetic polymorphism and oral contraceptives. Basic Clin Pharmacol Toxicol. 2014;115(4):366-371. doi:10.1111/bcpt.12230
 Møller UK, Streym Sv, Jensen LT, et al. Increased plasma concentrations of vitamin D metabolites and vitamin D binding protein in women using hormonal contraceptives: a cross-sectional study. Nutrients. 2013;5(9):3470-3480. Published 2013 Sep 5. doi:10.3390/nu5093470
 Harmon QE, Umbach DM, Baird DD. Use of Estrogen-Containing Contraception Is Associated With Increased Concentrations of 25-Hydroxy Vitamin D. J Clin Endocrinol Metab. 2016;101(9):3370-3377. doi:10.1210/jc.2016-1658
 McArthur JO, Tang H, Petocz P, Samman S. Biological variability and impact of oral contraceptives on vitamins B(6), B(12) and folate status in women of reproductive age. Nutrients. 2013;5(9):3634-3645. Published 2013 Sep 16. doi:10.3390/nu5093634
 Bart S Sr, Marr J, Diefenbach K, Trummer D, Sampson-Landers C. Folate status and homocysteine levels during a 24-week oral administration of a folate-containing oral contraceptive: a randomized, double-blind, active-controlled, parallel-group, US-based multicenter study. Contraception. 2012;85(1):42-50. doi:10.1016/j.contraception.2011.05.013
 Fruzzetti F. Beyaz®: an oral contraceptive fortified with folate. Womens Health (Lond). 2012;8(1):13-19. doi:10.2217/whe.11.68
 Fischer JAJ, Sasai CS, Karakochuk CD. Iron-Containing Oral Contraceptives and Their Effect on Hemoglobin and Biomarkers of Iron Status: A Narrative Review. Nutrients. 2021;13(7):2340. Published 2021 Jul 9. doi:10.3390/nu13072340